~~~ Special Project Bloggs ~~~
Posted by Jaime Dormer on
...read (Part 1) It is now getting late in the afternoon and I was hesitant to go to the next camp thinking that I would be too late, but I decided to proceed anyway, I got to the second camp "Auschwitz II", just before sunset, which really did add some extra feeling & mood to my visit as the low setting sun provided a silhouette of the main building with the railroad tracks shining through the tunnel into the camp, emphasising the significance of their role in this horrific place.  I must say it is over bearing when you arrive,...
Posted by Jaime Dormer on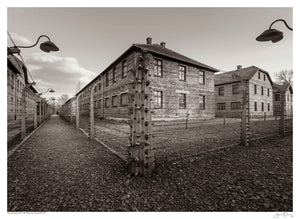 My trip to Poland takes me on long held part of a pilgrimage, to visit the concentration camps of Auschwitz, in Krakow. I arrived mid afternoon in the small town of Oswiecim where the camps were, so checked into my accomodation which was amazingly cheap @AUD$62 with breaky, an old  manor that had seen the who's who of Europe stay there, great place.  I then drove out to the actual camp, there were busloads of people there, had to pay for parking, but the entry to the camp was free, there are several camps named Auschwitz each with a number behind it, I,...